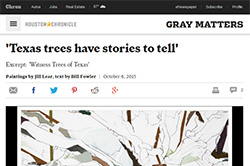 In the new book Witness Trees of Texas, landscape painter Jill Lear offers mixed-media portraits of Texas' most interesting live oaks — along with her own photos of the trees, and Bill Fowler's explanations of the tree.
When you live to be 500 years old, you see a lot of things. That's certainly the case with the Austin Treaty Oak, the majestic live oak tree in downtown Austin. The lone survivor from a grove once called the Council Oaks, the tree's shade was so inviting that it was the place chosen by Comanche and Tonkawa Indians to hold meetings and resolve conflicts. Legend even has it that this was the spot where Anglo settlers, including Stephen F. Austin, met with local Indians to forge a treaty.
Jill Lear is a painter who is so inspired by nature and landscapes that she has made trees her primary subject. She uses trees in landscape as a means of experiencing nature and processing the world in general. For her latest project she traveled the state of Texas to visit twenty historical trees, learn their stories and paint representations of each.
Appearance on KTBC - FOX 7 Austin
At first glance it is tempting to think of the subject matter of Jill Lear's recent paintings as being rather straightforward: Lear paints trees, especially gnarly ancient ones. Spreading across expanses of white canvas, and depicted in a hybrid style that combines careful drawing with Cezannesque patches of brushwork Lear's trees are have a striking aesthetic appeal.
Jill Lear's interest in trees has taken her to far parts of the world. For Lear, trees are a vehicle to explore structure and order. Her expressive work is grounded in place as she seeks to discover the role a particular tree has played in its locale. Such is the case with her newest series, Witness Trees of Texas.
Jill Lear has traveled the world in pursuit of her subjects, celebrating the beauty and tranquility of nature through watercolors, paintings, sketches and wall installations. She brings her work to Austin this month with an exhibition at Gallery Shoal Creek.
Sun Valley-based artist Lear doesn't just shake up the way we perceive and encounter trees. She imagines and investigates the tree; she collects lore about trees to better understand the role a particular tree has played in the life of a particular community. Her work is grounded in place, and fittingly, the titles to many of her paintings and drawings are the longitude and latitude degrees where her subjects are rooted. Why trees? "Because," she says, "trees are a vehicle to explore structure and order in the face of chaos. There's always a balance with trees no matter how off-kilter they may look-that balance is because they are in and of nature."
For art lovers who wish to see a new and skillful angle on the themes of nature and plants, Jill Lear is one painter that you can't afford to miss. Jill, now living in Ketchum, Idaho, used to live on the San Juan Islands near Seattle where forests and the lushest scenes of natural beauty that the Pacific Northwest has to offer surround her. It was there that the she discovered her subject, trees.